At an art week megavent known for its over-the-topness, notably saturated this year with an appendix of cryptobro and NFT influence, the curatorial collective Good To Know.FYI 's show PLEASURETOWN punched well above its weight on behalf of all who make art no matter what.
The pop-up show, up until Dec 8th in the historic lobby of the Park Manor apartments, brings the best of site-specific curation and grass roots energy to Art Basel Miami. The show responds to Miami Beach Nightlife, especially "sexual positivity," "dance culture," "social change," and "personal liberation"—but with something fresh and unexpected during ABM: restraint.
Julianna Vezzetti, a co-founder of the collective, illuminates part of the ethos of the curation behind Good to Know FYI: "We always like to have an artist's work site responsive and also provide a white cube space."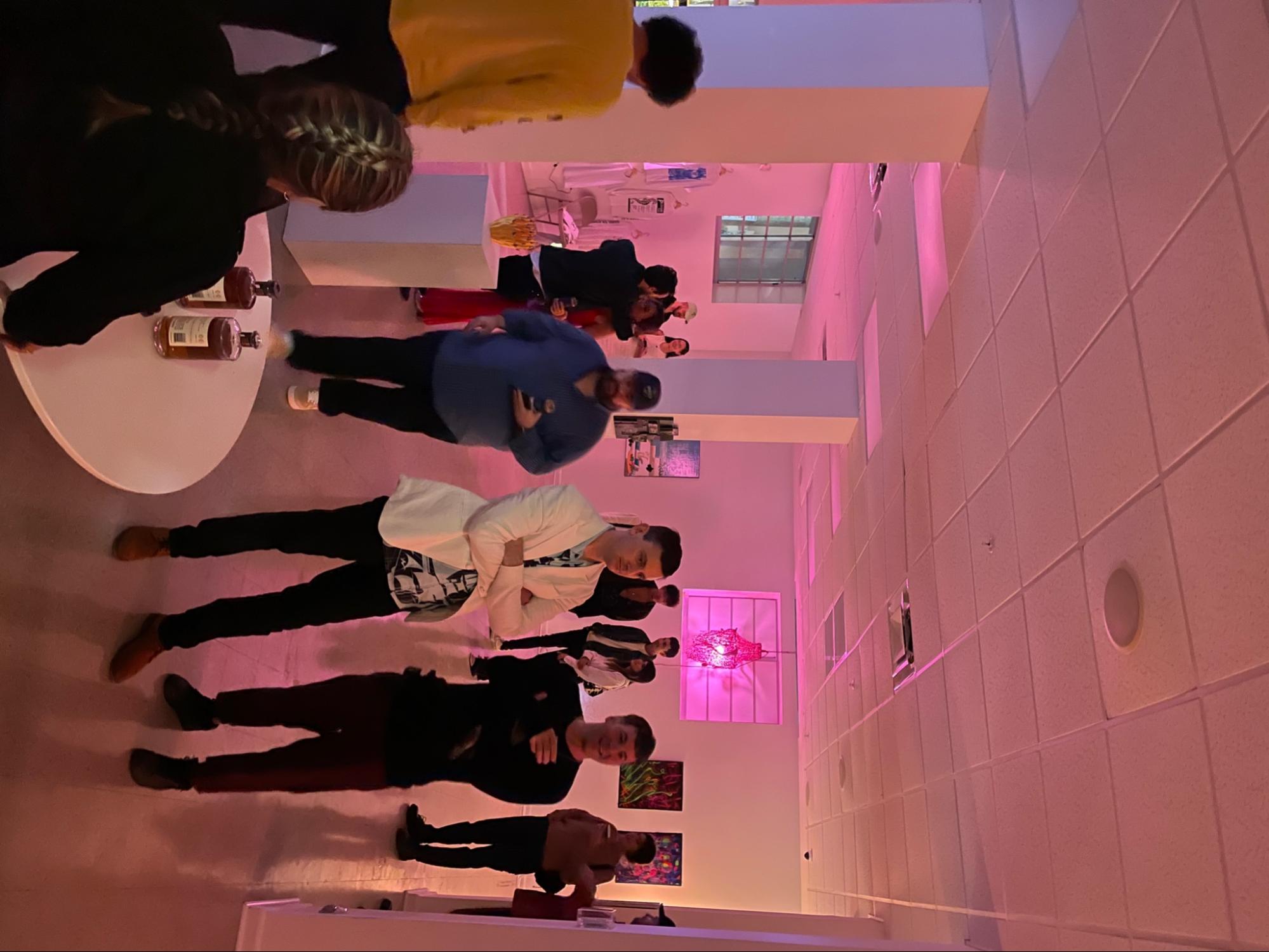 The show likely reached peak nightlife vibe during the opening on Dec 1. At the curb outside the entrance, Antonia Wright and Helado Negro's monstrous Cement Truck marímbula "Not Yet Paved" chirped away.. metallic plucks against idling diesel before entranced viewers. A real delight for the child in all of us, and a nod to the working class Latinx community. The piece showcases the disjointed experience immigrants face in the US. "It is the irony that we created this, but you are trying to expedite us out," says Vezzetti. Inside the lobby, works hid behind partygoers among the dim lighting in Miami fashion, but rewarded those ready with a flashlight (yours truly). Tatyana Zambrano's pair of miniature golden twerking figures dazzled like pre-Columbian treasures at the center of the room, as did Tim Karoleff's futuristic manicured coral nearby. Italian artist Nazareno Biondo's whimsical marble sculptures of cigarette butts and a rolled up $2 bill felt fittingly strewn around in the space, in one case hanging out on the floor next to No Touching Ground's sci-fi femme cutouts, illuminated by a sex-textured holographic flame.
2D works by Andronoos and Jason GVVL anchored the show with Miami-ness that celebrate the neon beachfront vibe, and other wall-mounted works celebrating queer identity, especially historical.
Brookhart Jonquil's curious gloss black illuminated floor sculpture proposed a space-age cross section of strip club facade against a large mirror wall, bringing a very masculine energy against Autumn Casey's soft and fleshy lamps. In the opposite corner, a relaxed nod to digital art via VR viewing room. The interactive environment invited viewers to touchscreen-navigate through a desert palace of NFTs for sale, sex toys occasionally rocketing across the VR skyscape (not for sale).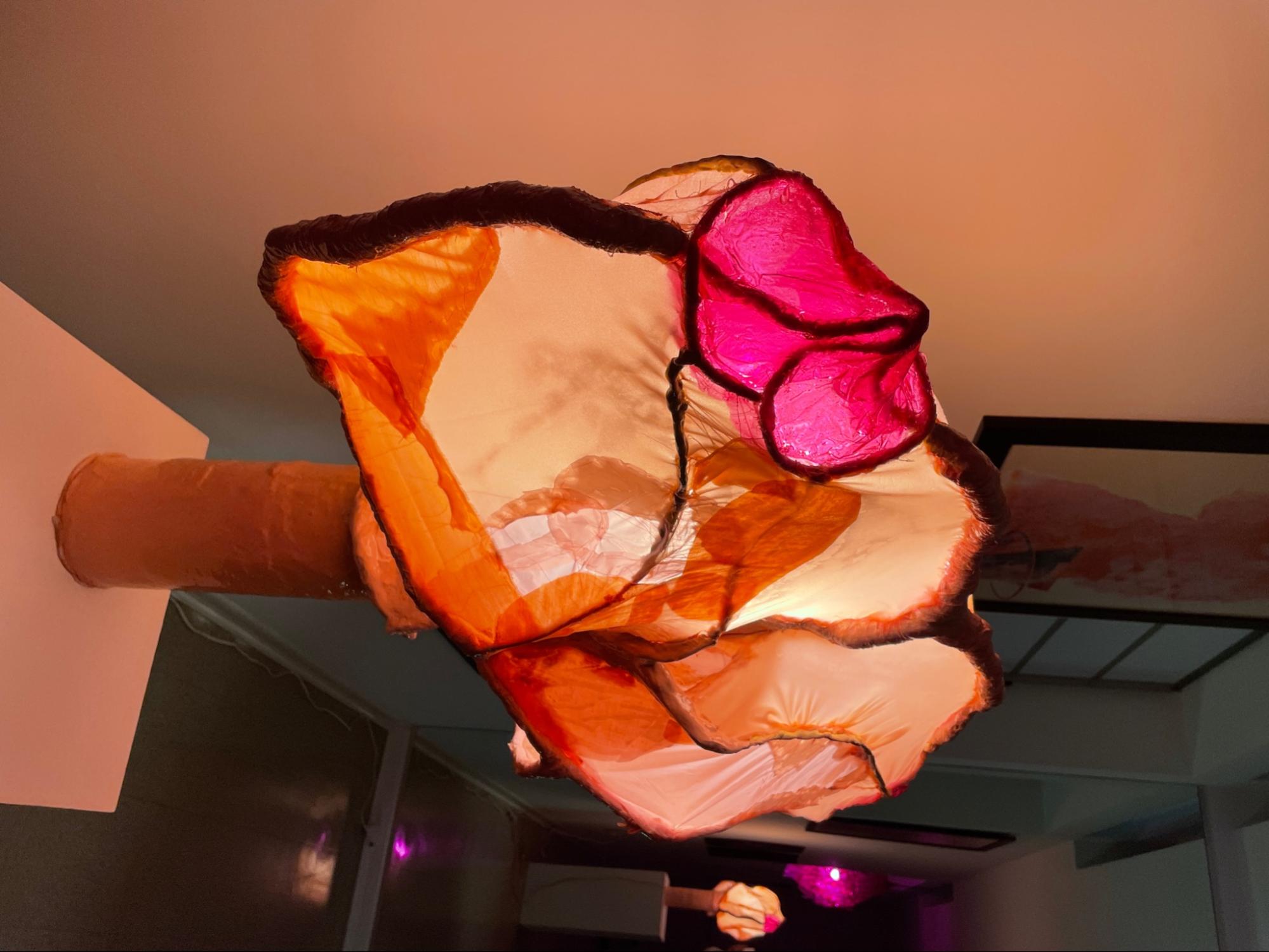 With such breadth, the show has no sensory overload artworks, nor does it pack in a bevy of responses to the curatorial theme. Good To Know.FYI's (ahem) restrained selection of 2D, 3D, 4D and digital works felt causally at home in the historic surroundings, repping MIAMI BEACH! and PARTY! in distinctly 2021 terms. For more on Good to Know FYI click: here